2021 Anglers World
Fly Fishing Championships
Individual Competition
The Competition
****BOOK YOUR PLACE AT THE GRAFHAM SEMI-FINAL ON 25th July 2021**** 
Now is the time to book your place in the Semi-Final of the Anglers World Individual Championships at Grafham Water on Sunday 25th July 2021.  The first 80 places for the Grand Final at Draycote on 22nd August have now been allocated, so this Brand New Event gives you the opportunity to progress to that Final by finishing in the Top 20!
We were well oversubscribed in under a day when the Entries were officially opened on 1st March, so we had already planned to run a Qualifier for the Final where everyone who enters has a realistic chance of progressing to the Grand Final.  Demand has been great so far and we already have over 50 confirmed entries!
We are expecting to cap the Semi Final at 100 anglers and will be giving some great prizes to make it almost a "standalone" Event.
Next year we are hoping to return to the much loved Regional Heats system, but while we are still governed by restrictions due to the Pandemic, this is the best way we could think of to try to give everyone a fair chance.
I look forward to meeting angling friends, old and new, at Grafham for this very exciting new match.
John Horsey
Fly Fishing Championships Manager
**** GRAFHAM TO HOST SEMI FINAL ON 25th July 2021 ****
The response to this year's launch has been phenomenal, resulting in over 150 entries in just a few hours!
So the good news is we have organised a Semi Final at Grafham Water on Sunday 25th July for 100 anglers.  This means that everyone who applies to enter the Championships will have a real chance to progress to the Grand Final at Draycote Water. 
Practice Day boats have also been booked for the previous day and are not available via the Fishery.  We intend contacting all applicants very soon and informing them whether they are in the Semi Final or are one of the lucky first 80 fully paid entrants who progress straight to the Final.
Either way, it looks like being a great few days of Competition this year, with prizes at both the Semi Final and the Grand Final.
John Horsey
Fly Fishing Championships Manager
UPDATE ** GRAND FINAL – 22nd AUGUST 2021 – DRAYCOTE WATER **UPDATE
"After due consideration, the Organisers have decided not to hold Heats for the 2021 Anglers World Fly Fishing Championships.  Travel, accommodation and restrictions on numbers will still be in place until mid June, so for this year only  (hopefully) we have decided to make one major alteration to the Event.

 ** NEW SEMI FINAL STAGE **            

Last year saw the Championships Final at Draycote sell out in just 4 days!! 
So this year, there will, once again be 100 places up for grabs at the Final.  However, if we are oversubscribed as last year, there will be an opportunity for everyone who entered to have a shot at making it to the Final.

We have decided that priority will be given to the first 80 paid-up Entrants, then everyone else who submits an entry will be invited to fish in a Semi Final* to decide the other 20* places.
         *Depending on levels of entry, there may be an adjustment to the number of places available (max being 20) and also an additional Semi Final date if necessary.

Further details regarding the date and venue for any Semi Finals to be supplied at a later date. 

Some people have already attempted to enter the 2021 Championships prior to this announcement and they have been notified that their entry is invalid.

Please remember that Entries are only Provisional until payment has been made.

On behalf of the sponsors, I look forward to seeing you all again in 2021.   Stay Safe, get the Vaccine and get back to normality".

John Horsey

Fly Fishing Championships Manager 
Now into its 21st year and with a truly international following, John Horsey's individual fly fishing championships are the biggest of their kind in the World. Known as the "Friendly fly fishing championships", it is an unparalleled opportunity for our competitors to share a boat with some of the best anglers in the World.  John Horsey is the Championship Manager: with 48 England International Team Caps and 21 years of running fishing competitions, John has the perfect credentials to deliver a well-organised, friendly fishing experience second to none:
"It is my intention to give all competitors great value for money, a huge selection of prizes and an enjoyable day on the water. Where else can you pay your entry fee and end up spending the whole day fishing with a World Champion?"
GRAND FINAL The Grand Final will be held at Draycote Water on Sunday 22nd August 2021 with official practice the previous day. There will be 100 competitors and we hope to hold a Presentation Dinner afterwards, but this will depend upon guidelines applicable nearer to the time.
View entry & fishing rules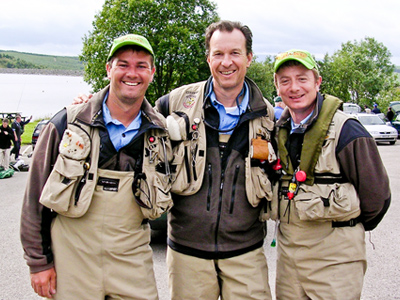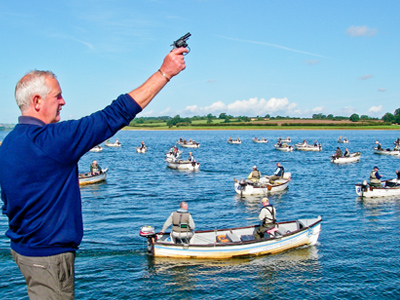 Prizes
2021 Champion wins fishing holiday - plus many other prizes for competitors
The 2021 Anglers World Champion will win a superb Fishing Holiday Prize and there will be other excellent tackle prizes down to 10th place.
Courtesy of Anglers World Holidays
Top tackle prizes from Wychwood, Cortland UK, Turrall, Chalk Fly Fishing & Costa Sunglasses
To be won at the Grand Final.
Courtesy of Costa Sunglasses, Cortland UK, Turrall, Chalk Fly Fishing and Wychwood Game
The Anglers World Leaderboard for Most Fish Caught HAS BEEN SUSPENDED for 2021.